Beware! IroneFX is an offshore broker! Your investment may be at risk.
RECOMMENDED FOREX BROKERS
Don't put all your eggs in one basket. Open trading accounts with at least two brokers.
For those of you that are impressed by the interface and slick looks of IroneFX, don't rush to any conclusions. This broker is hiding something that it wishes not to reveal to the user. But how do we know this just by the looks of it? Well, years of experience has taught us to detect illegitimate broker behaviors, and IroneFX is steaming with it. For one thing, the footer has no contact or regulatory information. Check with all known licensed brokers and you will see that their footer displays their regulations and subsidiaries. The next sign is a much subtler one, the interface itself and the way everything is structured. The simplicity of how things are laid out plus the filler texts all add up to a suspicious package. The following review will speak of the other major issues that hinder IroneFX.
We always start with a registration, for shady brokerage might hide their true purpose to the onlooker. And, without being too surprised, we figured out that there was no way for us to register an account. The way IroneFX has done things is that it requires its users to contact it asking it to open an account for them.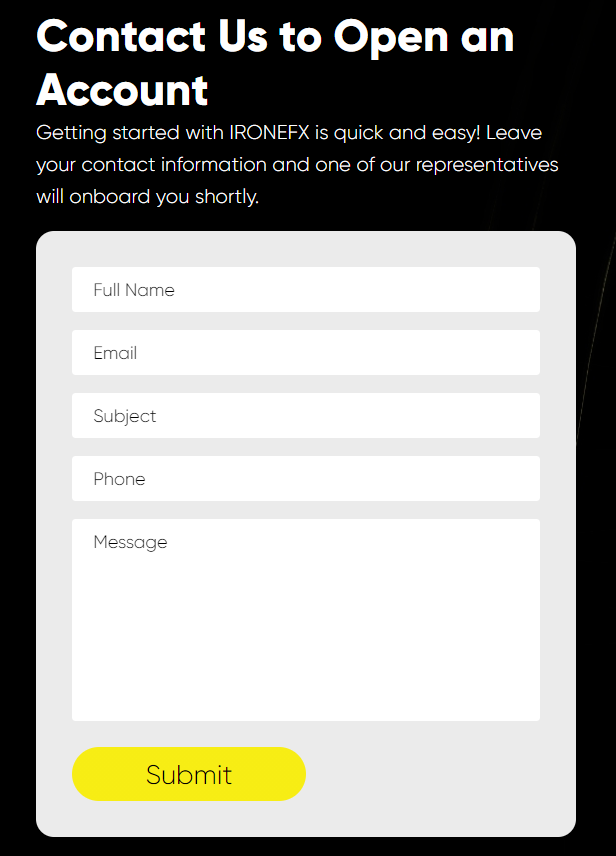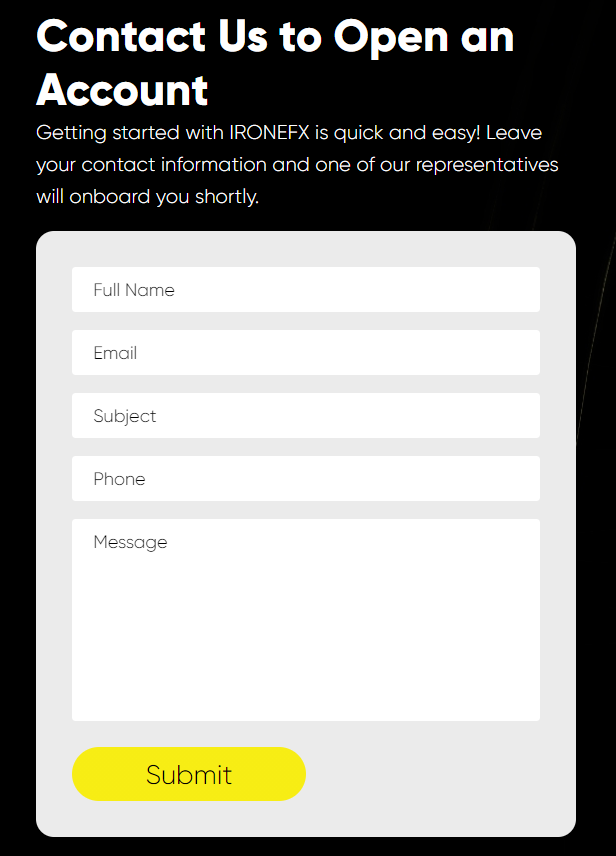 This approach is definitely conserved for the scammer-type brokers. By using this methodology, IroneFX makes sure that the sender is a good earner and can easily be manipulated into depositing. This is all part of the most common scammer scheme, the one we have detailed at the end of the review.
Without registering, all trading information will be taken from the website. Just remember that brokers such as IroneFX cannot be trusted entirely with what we are about to reveal. So keep this in mind.
Surprisingly, the trading platform was open to anyone. One must find it in the Platform sub-menu, and one will be granted free access to the trading terminal. There we found out that the EUR/USD spread is 0.4 pips, which is amazing, but we are certain that there are hidden commissions! The tradeable assets are forex currency pairs, stocks, cryptocurrencies, indices, and commodities. The leverage as seen on the terminal was 1:2, which was surprisingly low for an offshore broker. Usually, they go as far as 1:1000.
The website is available in English, Spanish, and German.
IRONEFX REGULATION AND SAFETY OF FUNDS
Literally, the only helpful info that we found was the following clause in the Terms and Conditions.
And it doesn't help us, nor the broker. It only propels the review forward. The clause basically asserts that users have to check if they are allowed by their local authorities to trade with IroneFX. This is of course a completely ridiculous and scammer approach and is a definite sign that the broker is shady.
If you want more proof that it is not safe to invest here, we have the following clause for you claiming that all shared data can be used for marketing and developing products.
IroneFX is UNREGULATED without a doubt. Do not invest here for your funds will not be safe!
Never invest in brokers that do not have a license or claim to have one without any evidence to support it. We recommend to all our readers to invest in FCA or CySEC regulated entities for these are some of the top FX overseers working today! These licensors, alongside others, employ scrutinizing rules and demands from their registered brokers. These prerequisites are very taxing, and that is why unregulated brokers are what they are; they simply cannot meet them! A good example of a requirement from most regulators is a specific starting capital that ranges from $50 000 to $20 million! Furthermore, the FCA and CySEC, specifically, offer compensation schemes to users of brokers under their gaze. CySEC guarantees up to €20 000 per person, while the FCA guarantees up to £85 000.
IRONEFX TRADING SOFTWARE
We came by accident to the trading floor. Usually, this space is reserved for those that have registered!
Nevertheless, this is not the best trading software, as it has been seen used by other scammer brokers. Although we do have some good features here like take/profit, stop/loss, pending orders, and some chart customization.
IRONEFX DEPOSIT/WITHDRAW METHODS AND FEES
According to the Accounts page, the minimum requirement for opening an account is €250. The payment methods according to the legal docs are credit cards, debit cards, and wire transfer, but illegal brokers tend to lie about these things, so we won't be surprised if the minimum deposit is different from what we just said it was while the payment methods turn out to be also completely untrue. These things tend to be revealed for registered users. The payment info confusion is another setback caused by our inability to create an account.
The T/C reveal that withdrawals can be made through bank transfers and cards, be they credit or debit. The processing of a withdrawal requests can take up to 2 days.
As is expected from illicit brokers, there are many fees that have been vaguely mentioned. They are not backed by any numerical values, and as such are very dangerous.
The active withdrawal of bonuses happens only when the user has met a specific turnover requirement. Here, the broker wants users to trade the bonus in the following way: (deposit + bonus * 30).
The company has the full right to close down an account without giving the user a reason. It has the power to also shut down any open trading positions!
There is a whole subsection in the Terms and Conditions that aims to indemnify the broker from most liabilities, including the loss of funds by the user due to the broker's actions.
The company has the right to impose volumes on a trader's account. Now, we don't know what these are, or what they entail, but we are sure that IroneFX will find ways to use this clause against its clientele!
IroneFX is a pure scam! The re is nothing good expecting you here! Only financial loss awaits when investing in IroneFX!
How does the scam work?
The most common scammer scheme is also the easiest one to apply. It requires a sort of hierarchal structure within the scammer community, but the structure is the same in most illegal brokers. The only differences here are observable when brokers add their small twists to it.
The scam starts when users are baited by one of the thousands of investment ads that are scattered throughout the internet. These are mostly found in popular websites, such as social media outlets and similar sources. The ads are very colorful and convincing, most utilizing some sort of a lure, be it a beautiful woman, luxurious houses or/and cars, or a rich lifestyle where money is easily made through online FX investing. The fulfillment of these dreams is just a click away!
Once clicked on these ads, the user will be sent over to the broker's site or an intermediary website. In any case, users will be required to give away their contact details in order to continue. If one gives these away, then he or she will definitely start receiving calls or emails from the first wave of fraudsters, the so-called "openers", whose job is to guide you through your first deposit.
Once deposited for the first time, the second wave of the scammers hit. These are high-level fraudsters who are after the big money. They will push users to deposit more and higher amounts while promising unrealistic returns of profit. Their methods of conviction are not to be underestimated, for they are as charming as they are dangerous.
Sooner or later, the investor will want her money back, either due to suspicion or just because. It is then that the final step of the scam is activated. During this step, the criminals will do whatever it takes to stall or withhold all withdrawal requests. Other extreme measures include closing down a user account, blocking it, or completely shutting down the website.
What to do if scammed?
Probably the first thing one should do after being defrauded by a scammer broker is to file for a chargeback. Credit card and debit card companies allow for this option mainly because of similar cases. It's probably the best option! MasterCard and VISA have a chargeback period of 540 days.
Money lost through a bank transfer should induce the user to immediately change her bank account password and username, to reduce any further damage. Furthermore, the user's bank may have a specific plan in motion for such cases, so it's always a good idea to contact the bank directly.
Never invest in fake brokers through whatever currency they offer. Crypto deposits are untraceable and as such are forever lost once processed.
One last thing to remember is to stay away from recovery agencies or agents. You will stumble upon people who claim to be able to return all your lost funds, but what they don't tell is that they are scammers as well. They will ask for a fee in return for their "services". If you pay them, the money is lost, for they will disappear.
Rich Snippet Data
Reviewer
TheForexReview
Review Date
2021-02-19
Reviewed Broker
IroneFX
Broker Rating